Things to do at HIROSHIMA GATE PARK
Lunch outdoors

With plenty of places to sit in the park, you can easily grab a takeout meal from a nearby restaurant and enjoy it outdoors.

Family playtime

This spacious park has a variety of play equipment including a playground featuring rises and falls, a mist fountain, and equipment for play using soft balls.

Walk your pet

You can walk your pet on a leash in the park and use the paw-washing station.

Various events

If you want to organize a flea market or an athletic event in the park, it can be used for these kinds of events (for a fee) if you apply to do so. Contact the park office for more information.

Work outdoors

Take a break from the office and work in the park when it's nice out. CANOPY SQUARE is equipped with Wi-Fi and offers a comfortable outdoor work environment.

Street sports

The URBAN SPORTS ZONE offers the freedom to use the park for street sports and other activities. Please be considerate of those around you when using this space.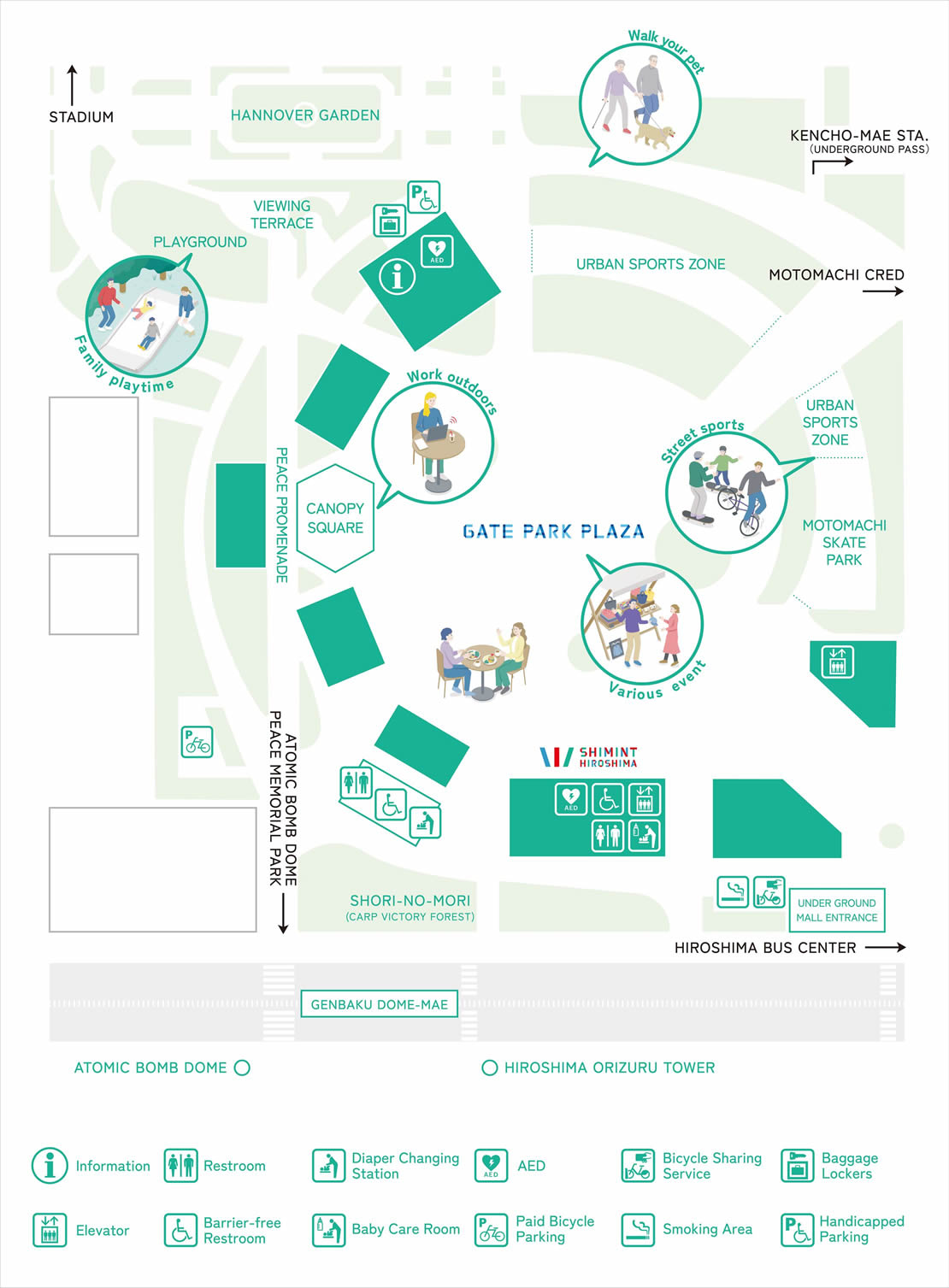 Park Rules
This place is for everyone to enjoy; be sure to keep it that way by being considerate of others when visiting.
Behaviors that cause trouble or may cause others harm is not permitted in the park (using metal bats, golf clubs, or similar).

Smoking is not allowed in the park.

The use of skateboards or similar is limited to the URBAN SPORTS ZONE.

Unauthorized advertising, sales, overnight stays, and the use of fire are not allowed.

Unauthorized motor vehicles are not allowed.

Please walk your bicycle when you are not using the bicycle trail.

Please park your bicycle in the bicycle parking lot.

Please do not litter. Trash should be taken home with you.

Do not feed wild animals.
※These rules may not apply during certain events. Rules for events will be decided separately.

A bustling civic park that is the gateway to a new lifestyle filled with enthusiasm, excitement, and encouragement.
In Spring 2023, the former Hiroshima Municipal Stadium will be transformed into a civic park. HIROSHIMA GATE PARK aims to be a space for everyone that is familiar and accessible, much like the old municipal ballpark. It also offers a peaceful place to unwind in your own way, surrounded by nature. Just as the people of Hiroshima cheered, rallied, and were inspired by the Hiroshima Carp, this is a space where we can cheer on those who will build our future and cultivate new interest in the city. A place not only for rest and relaxation, but also for exciting and inspiring experiences, overflowing with warmth and encouragement. The future of Hiroshima begins at this park.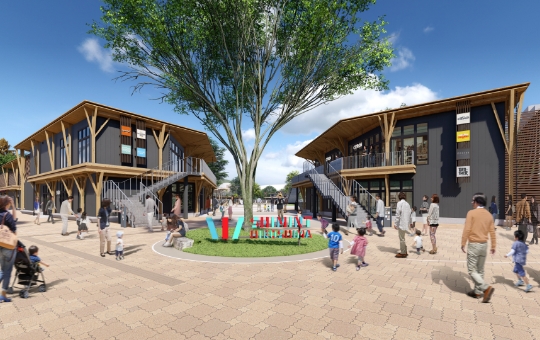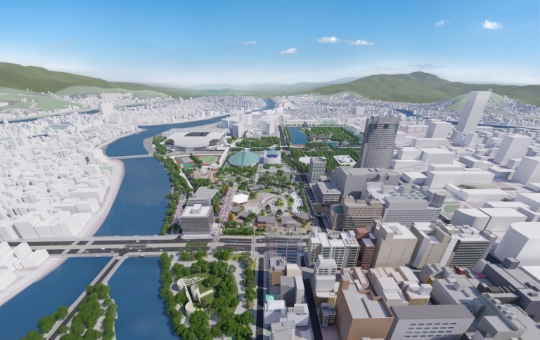 PEACE PROMENADE

This is a cherry tree-lined walkway built with hopes for peace that follows a straight line from the Peace Memorial Park to the Hiroshima Peace Memorial.

CANOPY SQUARE

A large, sheltered plaza designed to resemble a folded paper crane that blends harmoniously into the surrounding greenery.

PLAYGROUND

This open space transforms the natural terrain of the park into a space where children can play and run around.

SHORI-NO-MORI (CARP VICTORY FOREST)

A memorial site where visitors can view the Hiroshima Toyo Carp championship monument from a rest area made using benches from the old stadium.

VIEWING TERRACE

A hill-shaped plaza on the north side of the Peace Promenade, featuring a staircase with water flowing down the center and camphor trees.

HANNOVER GARDEN

A garden built to commemorate the goodwill and friendship between Hannover, Germany, and Hiroshima City.
From ballpark to bustling civic park
We are creating a park inside the area encompassed by the Peace Promenade, a symbol of hope for the future that connects the northern and southern points of the Peace Memorial Park, and two ribbon-like borders reminiscent of the shape of the former Hiroshima Municipal Stadium: a "green ribbon" of greenery that runs along the outer edge of the park, and a "universal ribbon" comprised of a concrete structure that encircles the main traffic area of the park and can be used by park visitors in a variety of ways. By connecting the different areas of the park in this way, we aim to create a lively, playful atmosphere and a sense of flow unique to this place and the way it brings people together.
A symbol of Hiroshima's reconstruction

The stadium opened on July 24, 1957, as the first stadium in the Chugoku region with night game facilities.

Half a century as the home of the Hiroshima Carp

3,182 games were held here at the Carp's home stadium, built out of the citizens' desire to rebuild their city.

Discussions around future utilization

We discussed ways to use the space from both long-term and community development perspectives. The space was still used for a variety of events in the meantime.

A symbol of liveliness

As an urban center, we are creating a lively atmosphere that is unique to this location and will bring people together.

By streetcar

1 minute walk from Hiroshima Electric Railway Genbaku Dome-mae Station, 2 minute walk from Kamiyacho-nishi Station

By Astram Line

4 minute walk from Kencho-Mae Station

By bus

1 minute walk from Kamiya-cho bus stop, 4 minute walk from Hiroshima Bus Center

By ferry

5 minute walk from Motoyasu Pier on the Hiroshima World Heritage Route.

By car

The park does not have a dedicated parking lot. Please use nearby toll parking.

By bicycle

Please use the park's bicycle parking area(located on the park side of the Hiroshima Chamber of Commerce and Industry).